More than 20 % of all owners of German craft enterprises are older than 60 years. This means that around one in five craft business owners in Germany will soon be retiring.
This contrasts with a growth in sales over the last 10 years of over 25% to 46 billion euros p.a. in the SHK market, with a simultaneous loss of over 4,000 businesses.
This picture of fewer and fewer providers for the execution of all sanitary/heating and air-conditioning trades is contrasted by millions of unrenovated and old bathrooms. The Association of the German Sanitary Industry (Vereinigung Deutsche Sanitärwirtschaft e. V.) reports that there are 17.7 million unrenovated bathrooms in Germany, with an average age of 19.5 years.
If you link (only) this basic information and data, you will quickly recognize the potential and, above all, the development opportunities inherent in your partnership with bazuba. A market that is shrinking on the supply side - and growing on the demand side - is lucrative for professional brand suppliers. This also results in your very positive future prospects as a bazuba franchise partner.
(All figures cited here are taken from the ZVSHK, the German sanitary industry, the University of Göttingen and Statista).
Your perspective with bazuba
With the franchise partnership and the business concept of bazuba, many people have already become successfully self-employed! The timeline below shows the average development of a FranchisePartner.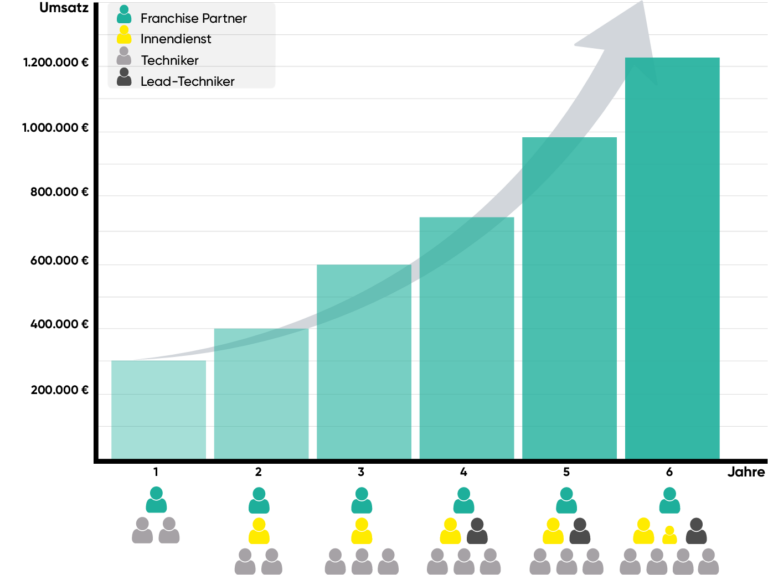 Your services with bazuba
There is no competitor in Germany and Austria that offers a comparably comprehensive portfolio for (alternative) bathroom services. These services are divided into the following areas:
Smart Repair
Spot repair of tubs and shower trays
Polishing bathtubs
Renewal of silicone joints
Tile grout renovation
Introduction of anti-slip
Coatings
Bathtub / shower tray coating

Tile coating

Coating floors with natural stone pebbles
Renovation of floors with design flooring
Wall filling with decorative plaster
Wall cladding with panels
Intelligent bathroom renovation
Tub out - shower in - the simple and

fast redevelopment with panels

MyTubDoor - the retrofitted

MyBathTub - retrofitted bathtub door
My ECO bath - the complete bath at an economy price
My seamless bathroom - the modern bathroom with smooth

spackled jointless walls and almost

unlimited design possibilities